Phase 3 will be starting on December 28 and we are now allowed to have social gatherings up to 8 people or receive 8 visitors to your house! Are you planning to have a Christmas or New Year's gathering? We've selected some food – perfect for mini parties with delivery to your house or self-pickup.
These selected platters are either fully cooked or frozen but all are suitable for gatherings at home.
Korean Roasted Chicken Set
Try out BBQ Chef's Korean Roasted Chicken Set includes – Roasted Chicken, Curly Fries, Roasted Vegetables and German Sausages. Alternatively, you may wish to go for their pork knuckle set which is going at $49.80.
Marinated Honey Pork Ribs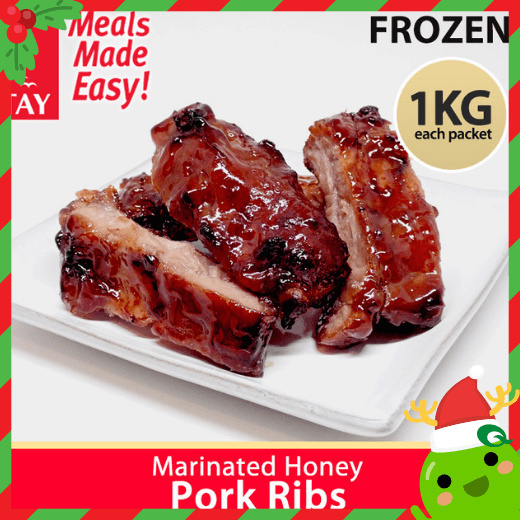 Yummy marinated honey pork ribs that are all ready to cook, whether it is BBQ, grill or just putting it into the oven at 180 degrees. Individually packed in 1kg – suggested serving size for 3 – 4 pax.
Frozen Delights
You've probably heard about Boon Tong Kee's Chicken Rice but they do sell other tze char dishes too! Choose 2 from prawn rolls, stuffed fritters, stewed pork with mui choy or yam paste pudding (the dessert: or ni). If you are craving for their chilli sauce, soya bean paste or ginger paste, they are available for sale on their shop on Qoo10 as well.
Dim Sum Platter
It will be never too early or too late to have dim sums! A quick search on Qoo10 on dim sum platters brings you several options for you to choose from. Featuring platters from Hong Kong Zai Dim Sum, Swatow Restaurant, Savoury and more. If you are interested, Swee Choon is also one of our sellers on Qoo10! Form your own platters with individual orders of Black Truffle Xiao Long Bao, Mee-Suah Kueh and Har Gow.
Mini Sushi Platter
Did you know – Sushi Deli is one of the brands under Jollibean? Get their online exclusive mini sushi platter on Qoo10, with 2 options available! Remember to pick them up at the outlets 30 days after purchase.
Cheesecake Platter
For something different, we have a cheesecake platter from Melvados. 20 small pieces of signature baked cheesecakes in 5 different flavours, perfect for dessert after your meal. Can't finish it? You are able to store them in the freezer for up to 3 months in an air-tight container!
---
Either with QX Quick – same-day delivery or self-pickup, there are no-frills getting your house party-ready. Remember, you are also able to send the food platters as gifts! Read more about it on our previous blog post here.
From all of us at Qoo10, we would like to wish our buyers, sellers and readers a Merry Christmas and a Happy New Year!